Joseph Konstan (Univ. of Minnesota) leads $2m NSF project to help researchers better study AI-powered news recommender systems
April 27, 2023
The University of Minnesota reports that a team around Joseph Konstan is leading a new $2 million National Science Foundation (NSF) project to create a shared news recommender system for AI-powered news recommendation research. The project is part of a larger $16.1 million NSF program aimed at providing AI researchers and students with access to shared research infrastructure, including high-quality data on human-machine interactions in the context of collaborative teams, automated driving, and news recommendation. The University of Minnesota is one of only five institutions leading collaborative projects supported by the NSF CCRI investment. The project aims to enable researchers across the US to carry out live, one-time, and longitudinal experiments on users of AI systems that personalize the news-reading experience.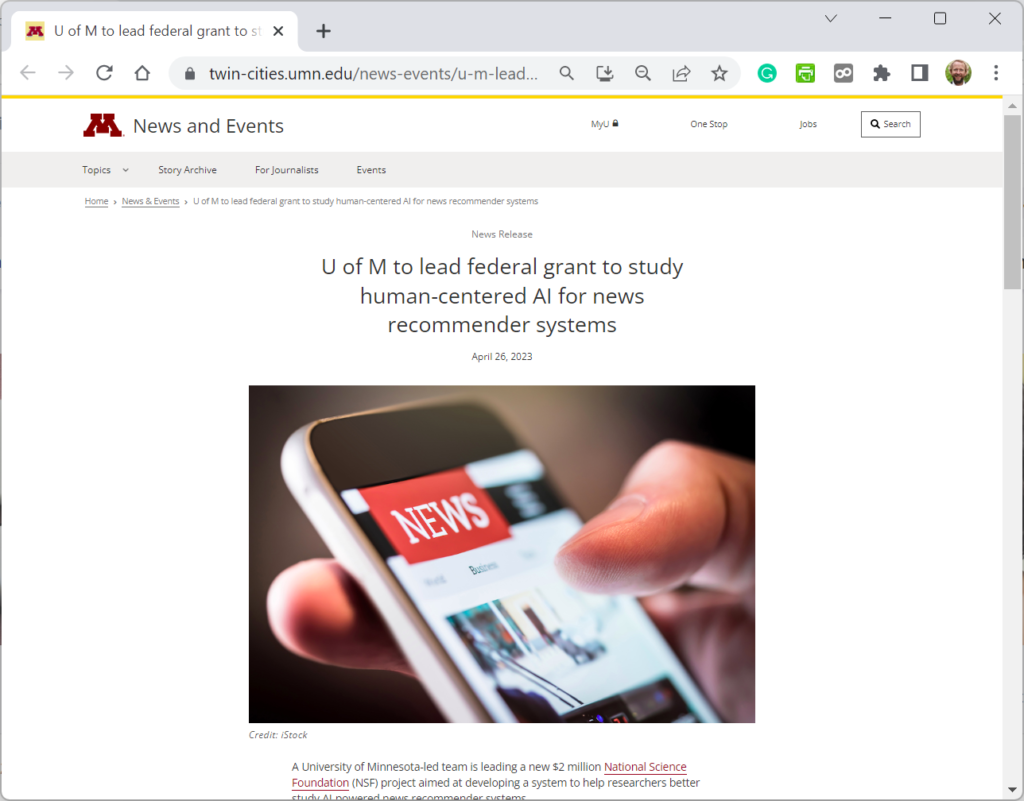 Joe Konstan, the lead investigator for the project, is a professor in the College of Science and Engineering at the University of Minnesota. He has extensive experience in AI recommender systems and human-centered research, including research ethics, privacy, and consent. Konstan leads a team of experimental researchers who will develop the shared news recommender system and work with an advisory board of researchers, news experts, and ethics experts to guide the infrastructure's development and operation. Given the broad impact of recommender systems, which shape the products shown to online shoppers and the news people see, it is essential for researchers to be able to carry out studies to evaluate different design choices and their impact on users.
NSF Director Sethuraman Panchanathan said, "A critical element to the success of the AI research revolution is ensuring that researchers have access to the data and platforms required to continue to drive innovation and scalability in AI technologies and systems." The project will be conducted in collaboration with Clemson University, Boise State University, Northwestern University, and the University of Colorado Boulder.